Lost Millennials Event Series #4 | Bridging the Skills Gap: Strategies for Upskilling and Reskilling NEETs
June 8 | 8:00 am

-

5:00 pm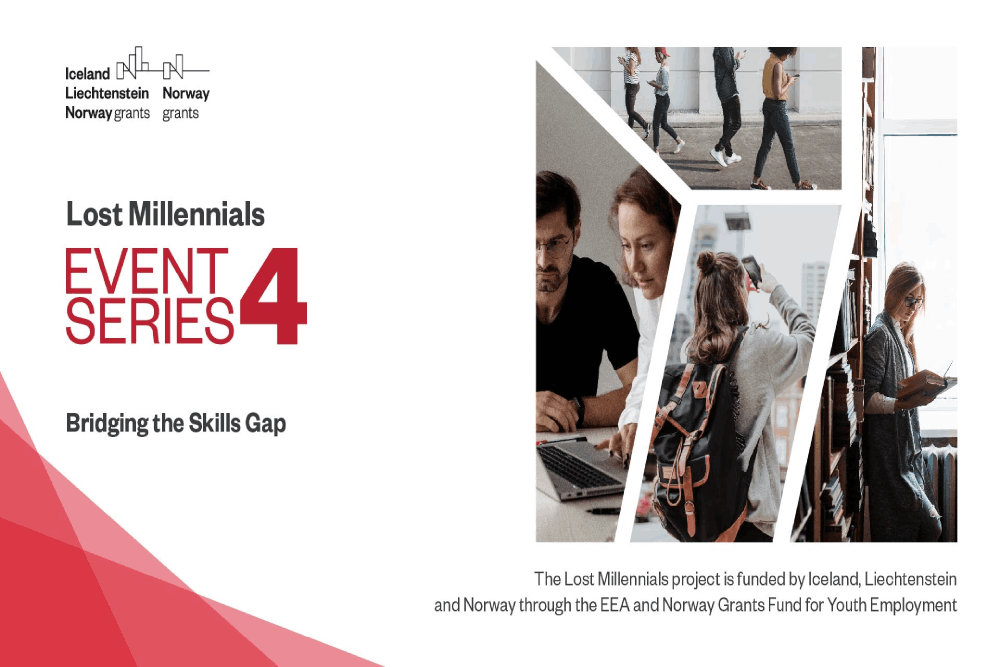 The Lost Millennials project invites you to the 4th-panel discussion of the Lost Millennials events series on June 8 from 11:00 – 13:00 CET.
The current job market is constantly evolving, and it can be challenging for young people not in employment, education or training (NEETs) to acquire the skills in high demand among employers. This event aims to explore strategies for upskilling and reskilling NEETs to help them gain new skills and enter the labour market.
Through this event, we will identify in-demand skills and explore innovative approaches to training and education, including online learning, micro-credentialing, apprenticeships, and experiential learning. We will also recognize the importance of soft skills and explore ways to support NEETs in developing these skills, which are often critical for success in the workplace.
Addressing the gap between the skills that NEETs possess and the skills that employers require will be a key focus, and we will explore ways to match the skills of NEETs to job opportunities through career counselling, job matching services, and job placement programs. Additionally, we will recognize that many NEETs face significant barriers to upskilling and reskilling and explore ways to address these barriers through targeted support services such as mentoring, coaching, and counselling.
Finally, we will recognize the importance of digital skills in the modern workplace and explore ways to provide training and education in digital skills to young people, especially those who are out of employment or in education and training. Join us in this event as we discuss strategies to bridge the skills gap and create opportunities for NEETs to succeed in the labour market.

Presenters:
Maria Grigoriadou: Upskilling and Integrating Neets into the Labor Market: The Greek Public Employment Service Case | Public Employment Service (DYPA), Greece
Eleni Bletsa: YES! To the Leverage of NEETs' Skills: Lessons Learnt Through the Outreach and Implementation Methodology of YES! And the Way Forward | Development Agency of Karditsa (ANKA), Greece
Cathrine Fredriksen: Individual Placement and Support as a Model of Supporting People Experiencing Mental Illness to Gain and Maintain Employment | Nord Universitet, Norway
Sævar Ari Finnbogason: Artificial Intelligence and Neets From the Educators' Perspective | Bifröst University, Iceland
Bjarki Þór Grönfeldt Gunnarsson: TBC
Moderator:  Athina Psariai
For more details, please see our Facebook event page.
Don't miss your chance to participate! Register now to secure your place at the event.
Please note that by registering for this event, you provide consent for receiving information on the subsequent events of the Lost Millennials project's event series and occasional news related to the project's research results.
Any personal data provided in the registration form will be handled in line with the Privacy Policy of the Project's Data Controller, HÉTFA. If you'd like to decline the opportunity to receive information on upcoming events and news on our research activities, please send an email to lm.leadpartner@hetfa.hu
The Lost Millennials project is funded by Iceland, Liechtenstein and Norway through the EEA and Norway Grants Fund for Youth Employment.